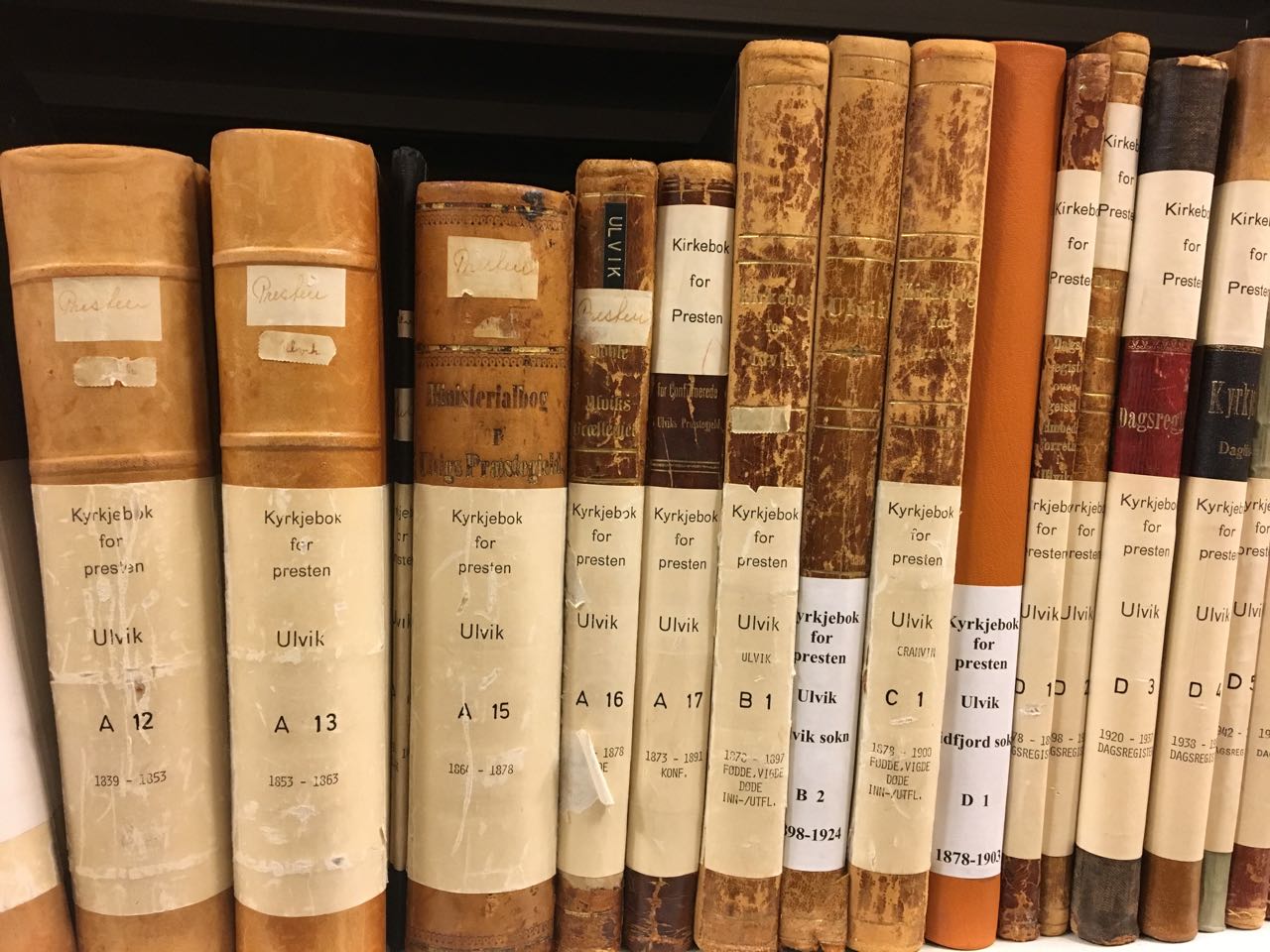 The National Archives have scanned, and made available most of the church books residing in the regional archives. In addition, millions of entries in the church books have been made searchable.
The oldest church book in existence is from Andebu in Vestfold county and begins in 1623. There are few church books covering the 17th century, but from the 18th century and onwards, church books from the majority of parishes and dioceses are well preserved.
Church books are invaluable source material for genealogists, but also important source material for historians and folklore researchers. Thus, in the latter half of the 20th century, the majority of church books residing in the regional archives were microfilmed. From 2004, the National Archives began a process of scanning these microfilms and on 8th November 2005, the first scans were published in The Digital Archives. These approximately 2.2 million scans from microfilm still account for the majority of scanned church books in The Digital Archives. Since the beginning of the 21st century, the regional archives have received many church books which are yet to be microfilmed. These books are scanned from the originals, which means the scans can be in colour as opposed to microfilm scans which are grayscale. As of 2017, approximately 400,000 church book pages have been scanned in colour. In some cases, original church books have been re-scanned due to poor quality on the microfilm, resulting in new colour scans. This is the case for quite a number of church books, but the process is highly dependent on priorities in relation to scanning of other archive material.
Why are not all church books scanned?
For a church book to be scanned, it is a necessary condition that it has been delivered to the National Archives. Paper based church book-keeping was discontinued by the end of 2012, and the Norwegian Church now uses digital church books. However, paper church books still serve as a reference for church offices in regards to older information which does not exist in the new computerised systems. In accordance with current rulings, ministerial books should be delivered to the appropriate regional archives 80 years after the first entry, whereas verger's books can be delivered as soon as they are written. This means that, as of 2007, the church offices have the right to store their ministerial books dating from 1937 or later, and as it can often be 20-30 years between the first and last entry in a church book, church offices may in many cases still be storing books from the beginning of the 1900s. The National Archives try to scan church books as, and when they are delivered, but a certain backlog must be expected. Newer verger's books are usually not prioritised, as the majority of content in them cannot be made freely available yet.
The following church books scanned from microfilm, but not published are:
Årstad paris, Årstad diocese: Verger's book nr. A1, 1886-1896, due to incomplete microfilm.
Trondheim Cathedral diocese: Church book nr. 601B01, residing chaplains book 1806-1808, due to issues with indexing.
Searchable church books
Many of the church books have been transcribed and published to The Digital Archives database such that it is possible to search through their entries. Even though the transcribed material accounts for a number of million entries, only a fraction of all the church books are searchable. During transcription, data from a list or event in a church book is entered according to a standard for church book registration (KYRRE in Norwegian). The data is then published to The Digital Archives, where it is then searchable. All data is collected into a large database, where it is possible to search through all sources, or a subset of them. It is also possible to restrict a search to the various types of church book lists or events, such as baptisms, marriages,births and deaths etc.
Person search in church books: See Other search modules under the search box on The Digital Archives front page.
Transcription of church books is performed partly by The National Archives, but the majority by individuals and organisations. The organisation "Slekt og Data" (Family and Data) is a particularly large contributor. Individuals and organisations are responsible for their data and are granted a "guest room" in "The Digital Inn", where as "Slekt and Data" have a collaboration agreement with the National Archives, in which the data is transferred to us. There are continual volunteer transcription tasks available, and these are open to all who wish to be involved.
Church books and personal privacy
Church books can, in some cases, contain confidential personal information. Even personal data which is not deemed confidential, can be of a sensitive nature and therefore not permitted to be published. Therefore, due to privacy considerations, the National Archives cannot make every church book available in The Digital Archives. You can read more about this in an article dedicated to confidential and sensitive data and how this determines what can be made freely available in The Digital Archives, as well as an article specifically covering church books.